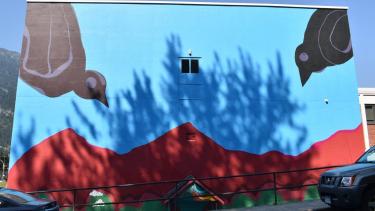 Principal Message: Week of September 26th, 2022
September 25th 2022
Good day, Hume Elementary School Community. 
So great to see your kids and families last week!  So many smiles and positive interactions through learning activities involving a lot of play, community-building, and outdoor time.  Many of the classes have made their first annual trip out to Kokanee to engage with some outdoor learning, play, and knowledge building around the extraordinary lifecycle of the Kokanee Salmon.
The grade 4/5 classes will be headed out to Kokanee this Monday, September 26th.  Weather looks spectacular!  The grade 5's also just completed a full-day of learning about Forestry this past Thursday, September 22, 2022.  So grateful for the opportunities to engage with more opportunities outside of the building through our start-up this year.
Tomorrow, September 26th, the whole school will be marking the tremendous achievements of Terry Fox and the Terry Fox Foundation with a school-wide assembly at 1:00 pm, followed by a run/walk through the community.  Please have your child(ren) bring a small donation to the school up until September 29th, as we aim as a school to raise $500.00 toward this amazing cause.  The senior students are busy collecting money from classes, tallying the total and marking our poster in the hall of our progress. 
The whole school will transition into some deeper learning into Orange Shirt Day throughout the week of September 26th as well along with the significant learning marked by the National Day of Truth and Reconciliation on September 30th, 2022.  Hume staff and students are invited to wear orange throughout the week.  We will have a school wide assembly on Monday, October 3rd to highlight the beautiful message of "Every Child Matters" and the deep history that marks this journey together.  All staff and students are asked to wear orange on Oct. 3rd.  If you have some older shirts (smaller) floating around the living quarters, please have your child bring to the classroom teacher or front office for re-distribution out to other students. 
If you have not had a chance to visit the new school mural completed this summer, please take the time to do so.  The final Hume School Mural is an expression of reconciliation that has emerged from the collaborative efforts of the Nelson & District Arts Council, Youth Arts Action Committee, 220 students at Hume Elementary School, and Ktunaxa artist, PJ Gilhuly. 
Enjoy the beautiful fall weather, that is September!
Important dates and details for the week ahead and beyond…
September 23rd – 29th – Hume Virtual Book Fair
September 26th – Hume School Terry Fox Run and Assembly
September 27th-30th: Hume School exploration of Orange Shirt Day and National Day of Truth and Reconciliation
September 30th – National Day of Truth and Reconciliation
October 3rd – Orange Shirt Day Assembly (Hume) – wear orange.
October 5th – First Fire Drill
Watch for emails and Class Dojo posts from Classroom Teachers regarding upcoming outings, consent forms, and permission forms. 
Updated Hume Elementary Staff List - School Staff | Hume Elementary School – Please join me in welcoming all of our Teachers and Support Staff who we are very fortunate to now have at Hume.  (In progress)
If you have any questions, please feel free to give us a call.  The Hume School Website continues to be a great place to get more information on the school, see our calendar and receive updates on school celebrations, principal messages, and announcements. The Schoolkit Hub App is an easily installed app for phones (android or iphone) to also receive updates. 
Learning opportunities for families… (links will be provided as opportunities arise).
Resource
Updated Interior Health – Healthy Schools Newsletter here
KOOTENAY ASSOCIATION FOR SCIENCE AND TECHNOLOGY (KAST)
The Kootenay Association for Science & Technology (KAST), the only nonprofit tech association representing the entire Kootenay region, after a 2 years' hiatus due to COVID, our youth's division KAST Youth (formerly GLOWS) is thrilled to announce that our in-person STEM youth programming is back and better than ever! Some past favs will be returning, including the Kootenay Contraption Contest and Robot Games, while we're also working on delivering new partnerships and programs such as our Club KAST after-school tech program at the NDYC and PyGamer tech camp (see posters attached).
Reminders
Key Health Measures
Please keep your child home if they are exhibiting symptoms (congestion, runny nose, cough, sneezing…) that may lead to a high level of transmission of communicable disease.  We are wanting to keep the student population and all our families as healthy as possible throughout the school year.  We know how impactful it is for all of our families when students need to stay home.  Let's all work together to keep this number as low as possible.  As well, we need to keep our staff healthy as we can be faced with not having "fills or substitutes", which puts further strain on our systems. 
Use the daily health check app: The K to 12 Health Check website and app is an easy way to decide if your child should attend school based on their symptoms. It includes current health guidelines and offers an age-appropriate user experience for K to 12 students.
Take care, everyone!
Sacha Kalabis
Principal Hume Elementary School
Hume Elementary
310 Nelson Avenue
Nelson, BC  V1L 2M8
250 352 3186 (office)
250 825 2037 (Sacha) 
sacha.kalabis@sd8.bc.ca
https://hume.sd8.bc.ca/